Delivering consumer goods can be challenging when it comes to replenishing shelves, finding new merchants and keeping the products in inventory consistent. Delivering FMCG goods, through any distribution channel can benefit from a unified delivery management platform.
Mile food delivery software streamlines the FMCG logistics and supply chain processes. FMCG brands can efficiently meet the delivery goals of their business and meet with the expectations of their customers.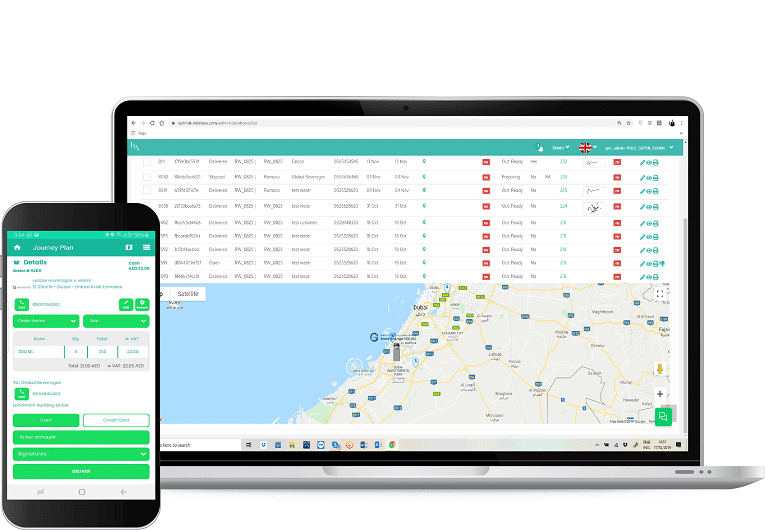 White Labelled Consumer App
Take your business online with a fully integrated white-labelled consumer native app. For both iOS and Android Platforms. Ask our experts how Mile can take you online within a day.
Theme & Branding
Products & Promotions Management
Order Origination
Cash on Delivery & Card Payments
Re Scheduling
History Details
In App Notifications
Customer Chat & Engagement
Off the shelf design & themes
User Friendly & Fast Go Live
Mile for FMCG Key Features
Orders Origination and Import
Bulk Orders Import from Excel or APIs
Reverse Logistics
Empower your business with reverse logistics, by handling returns without having to make extra trips.
Route Optimization
Flexible Route planning and scheduling for the logistics department & drivers
Stock Management
Allocating loads by route and keeping track of virtual stock in real time
Digital Dispatching
Individual or Bulk orders dispatching to merchandisers or drivers
Proof of Delivery
Get real-time proof of delivery with the electronic signatures along with date and time stamp.
Van Sales or Spot Sales
Drivers acting as merchants can create, adjust orders and print invoice in the field
Tracking & Notification
Keeping customers, drivers and users up to date with real time notifications and tracking across multiple channels
Starter Pack

$

140

month

Automated Invoice Generation

Settlements & Reconciliation

Barcode Scanning & Sorting

Field Delivery Notes Printing

Field Package Label Printing

Android & iOS Consumer App - White Label

Payment Gateway Integration
Professional Pack

$

275

month

Automated Invoice Generation

Settlements & Reconciliation

Barcode Scanning & Sorting

Field Delivery Notes Printing

Field Package Label Printing

Android & iOS Consumer App - White Label

Payment Gateway Integration
Enterprise Pack

$

410

month

Automated Invoice Generation

Settlements & Reconciliation

Barcode Scanning & Sorting

Field Delivery Notes Printing

Field Package Label Printing

Android & iOS Consumer App - White Label

Payment Gateway Integration