Deliver every day items to your customers, manage inventory and ship fast with Mile's Delivery Management Platform. Mile comes with some handy features for FMCG distributors like:
Same day and Express Delivery
Bulk Dispatch and order import
Order tracking and route optimization
Returns Handling
Van sales for making orders in feild
Cash and Credit card payment collection & more
Never miss an order and push new order to the drivers on the go or schedule deliveries in advance, Mile is flexible and covers all kind of complex processes.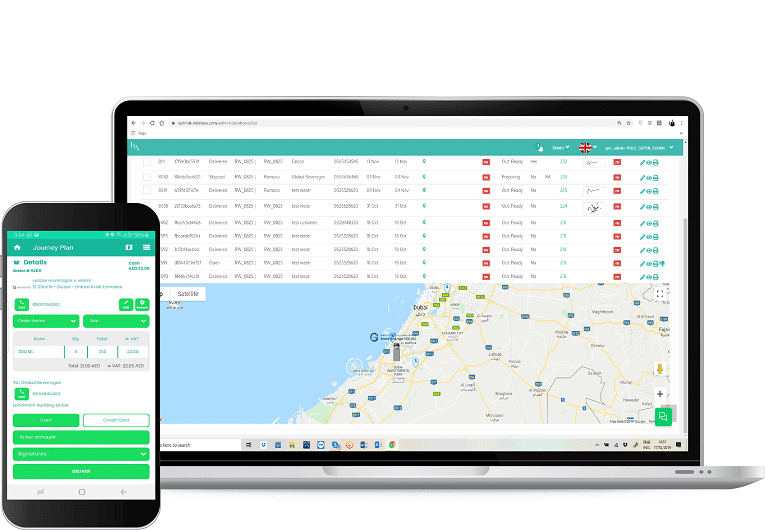 Interactive Customer Engagement
Take your business online with a fully integrated white-labelled consumer native app.
In App Chat with the customer for enhanced customer engagement
Push promotions through the white labelled app
Custom SMS and Email Notifications
Notify customers when the order is on the way
Order tracking white labeled link
Mile for FMCG Key Features
Orders Origination and Import
Bulk Orders Import from Excel or APIs
Reverse Logistics
Empower your business with reverse logistics, by handling returns without having to make extra trips.
Route Optimization
Flexible Route planning and scheduling for the logistics department & drivers
Stock Management
Allocating loads by route and keeping track of virtual stock in real time
Digital Dispatching
Individual or Bulk orders dispatching to merchandisers or drivers
Proof of Delivery
Get real-time proof of delivery with the electronic signatures along with date and time stamp.
Van Sales or Spot Sales
Drivers acting as merchants can create, adjust orders and print invoice in the field
Tracking & Notification
Keeping customers, drivers and users up to date with real time notifications and tracking across multiple channels
Dollar Pack

$

1

month

Unlimited

Tasks & History

Settlements & Reconciliation

Barcode Scanning & Sorting
Starter Pack

$

99

month

Unlimited

Tasks & History

Settlements & Reconciliation

Barcode Scanning & Sorting
Professional Pack

$

199

month

Unlimited

Tasks & History

Settlements & Reconciliation

Barcode Scanning & Sorting
Enterprise Pack

$

299

month

Unlimited

Tasks & History

Settlements & Reconciliation

Barcode Scanning & Sorting