Cloud Kitchen – A Fad or Reality?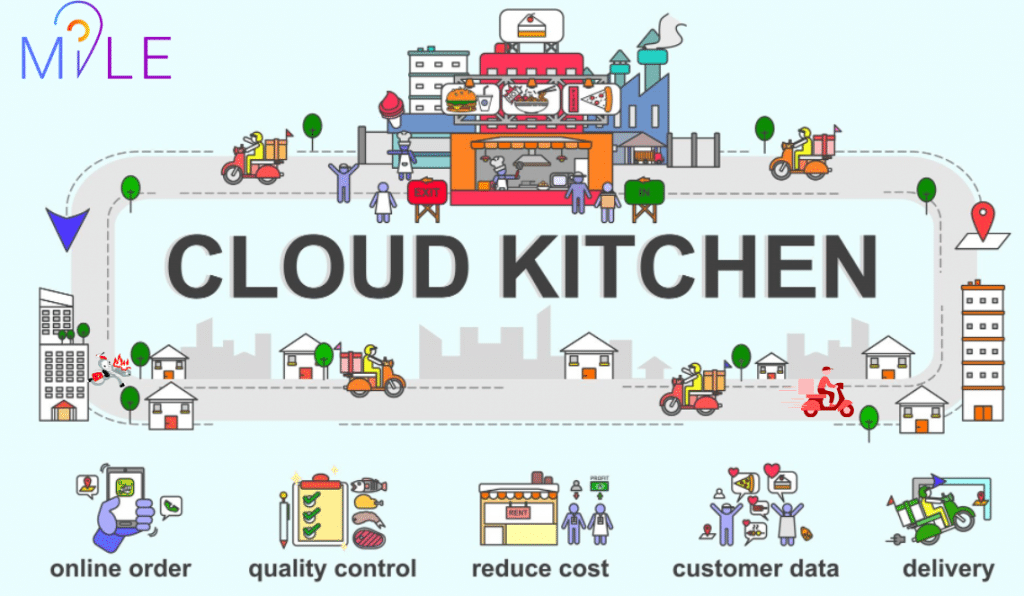 Cloud Kitchen, also known as the Virtual Dining idea, has demonstrated that kitchen innovation has no limitations, not only in terms of cuisine but also in kitchen operations. A type of invention in which too many cooks do not ruin the soup. They, on the other hand, make the best of their creativity.
Cloud Kitchen – The Virtual Dining Model
Whatever you want to call it: a 'cloud kitchen' a 'dark kitchen' a 'shared kitchen' a 'satellite kitchen' a 'virtual restaurant' or a 'ghost kitchen'. The cloud kitchen, often known as virtual dining, is a type of restaurant delivery service that revolves around delivery only concept. Customers may order from online menus and have them delivered to their door via meal delivery services. Cloud Kitchens are a great outlet for small restaurant business owners to kick off their operations with the shared operational cost.
Latest Trends in the food industry
The marriage between food and technology has yielded enormous profits. In the fiscal year 2019, the worldwide cloud kitchen business was expected to be worth more than 43 billion dollars. The business was predicted to increase at a CAGR of 12%, reaching a staggering 71 billion dollars by 2027. The food-tech business recorded a 140 percent increase in overall gross merchandise value the previous year, with a staggering 176 percent increase in orders. The F&B business has benefited from the growing popularity of on-demand meal delivery.
What's so appealing about the Cloud Kitchen Concept?
Unlike typical business model in this sector, such as takeaway restaurants or dine-in restaurants, cloud kitchens require less capital. Using cloud kitchen software can help you save money on CAPEX and OPEX.

Cloud kitchens are certainly the outcome of a pressing need, and this concept is well-known for its low-risk, high-reward potential. This, too, have set the ball rolling in terms of innovation since it allows restaurateurs to continue experimenting with new foods and concepts, resulting in a great deal of variety in the business.

Food Dedicated companies have even stepped up to provide ready-to-use kitchens for food entrepreneurs looking to start their own businesses. They also assist with logistics from beginning to end.

Since the cloud kitchen was introduced, the number of personnel, equipment, and other requirements has dropped, making this a highly lean operation.

With cloud kitchens, break-even may be achieved quickly.

Owners can concentrate more on the food and less on other non-essential concerns. As a consequence, business starts to see a quicker growth and increased market share.

Collecting client data gets simpler as technology enters this arena. You may not only learn and act according to your consumers' preferences, but you can also reward your loyal customers and establish strong customer connections.
Pros of cloud kitchen
Lower setup costs:

Cloud virtual kitchens save money for food enterprises. Leasing a commercial kitchen from a ghost kitchen provider reduces beginning costs by eliminating the need for building inspections, expensive construction, zoning compliance, and other such expenditures. Instead of the months or years that traditional leases or construction finance need, cloud kitchens may allow food enterprises to get up and running in days or weeks.

Convenience:

Imagine owning a restaurant and being able to concentrate completely on your clients and cuisine. This is made feasible by ghost kitchens! The following administrative responsibilities are frequently handled by ghost kitchen vendors:
Health Inspections

Equipment Maintenance

Cleaning Services

Security Monitoring

Property Taxes

Utility Costs
A more pleasant delivery experience:

Is your company's reputation tied to a physical location? Cloud kitchens assist you in growing your business by allowing you to deliver from a single location and diversify your revenue streams. Cloud kitchens enable your real restaurants to meet increased demand without overtaxing their culinary personnel with online meal delivery requests.

Expand your reach and influence:

Cloud kitchens allow your organization to focus more on meal delivery and reach a larger audience. Rather than relying on more restricted marketing strategies, delivery-optimized eateries promote their services through delivery apps and social media. Cloud kitchens may help your business develop by raising awareness and opening up new marketing avenues.

Lower operating costs and expenses:

Traditional restaurant operators have battled to stay afloat due to high property taxes, extravagant employee compensation, and unpleasant upkeep needs. These time-consuming and costly administrative duties are handled by cloud kitchens. Cloud kitchen restaurants often employ one to two cooks and divide costs with additional tenants.
Cloud Kitchen Business Starter – Requirements
Strategic location:

Operating a cloud kitchen is a relatively low-cost venture. A unique location might help you stand out and establish yourself as a dominant player. With cloud kitchens, you won't have to worry about customer traffic. Even so, you'll need a location with all the required facilities and a demographically favorable customer base to service. If the place is not conveniently accessible, customers will not enter. To provide at your finest, it only has to be positioned among high-demand consumers and be operationally and logistically solid.

Licenses: Customers may be deeply skeptical of your standards these days because they haven't really visited your location to see for themselves. The licences can be used to argue for your high standards and hygiene. These licences will also keep you out of trouble with the law. You'll need FSSAI licences, fire licences, trade licences, GST registration, and other permits before you can start your firm.
Delivery equipment and packaging: The sort of delivery equipment you'll require is determined by the items you're delivering. Packaging is also a serious issue that has to be addressed. It not only protects and preserves the food, but it also reflects well on you as a service provider. As a result, pay attention to how you package your food since it has an impact on how you do business.
Employees: This is a decision that will be made based on your company's size. You'll need to decide how many chefs, helpers, or other sorts of people you'll need based on your culinary goods and company strategy. It is recommended that you begin with a small army of employees and then build up as needed. A small team is common in cloud kitchens.
What are the potential challenges with cloud kitchens?
Cloud kitchens face several difficulties, one of which is logistics. Delivery applications' high costs may erode your earnings. Having your own delivery service, on the other hand, will eat into your expenses.
In these days of lockdowns and social distance, providing meal deliveries is a flourishing business. This is the only way to counteract high rents and low margins in the traditional food industry. One of the strategies to expand your business is by focusing on your brand rather than offering kitchen facilities and services to restaurants and other clients. So don't put it off any
If this was useful, please like and subscribe to our Facebook Page. Please go to our home page for additional information.
Read More: Best Grocery Delivery Apps in 2022