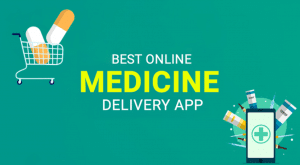 Business models for on-demand services have profoundly changed every industry. Nowadays, the trend extends into fields such as healthcare, pharmacy, and medication distribution. Using the best pharmacy delivery apps and medicine delivery apps. You can now get your medicines delivered straight to your door.
Moreover, the increase is not surprising given that the United States spent over $450 billion in 2019 on medications. Providing services to clients who buy medicine online is a lucrative industry, even if it is a modest slice.
A medicine delivery app benefits both pharmacies and patients. Advantages such as ease of purchase and reasonable prices are obvious.
Consumers can, however, experience a significant amount of value through these applications. These applications allow people to schedule consultations and create health blogs. Though which is more services than a local pharmacy can offer. There are a number of pharmacies that have developed smartphone applications to improve customer service.
Now let's look at some of the top pharmacy delivery apps and what you can learn from them.
RiteAid
It is a Fortune 500 company and a leading chain of drugstores. This is also a top-rated pharmacy delivery app in the USA. With RiteAid, customers can access their medicines with a single tap.
It now provides more than just medication distribution. In addition, the app lets users purchase diet and health-related products.
RiteAid's services include:
A purchase of medication or health products
including vitamins and diet supplements
electronic items for the office and cosmetics
CVS Pharmacy
The business model of CVS is an example of a health business model canvas. And also, By combining healthcare operations with retail pharmacy, it gains a competitive advantage.   The pipeline business model combines the two models. It helps an organization turn inputs into outputs efficiently.
It is profitable for the company to provide consumer goods, healthcare services, and pharmaceuticals to its customers. Pipeline models use different methods and designs. There are divisions and branches at CVS. The two categories are:
1. Business model based on bricks and mortar. This business model is called a brick-and-click model.
2. A pharmacy benefit management model.
Specialized departments for complex, high-end, essential drugs.
Approximately 10,000 locations.
Wide range of products.
Capsule
Our list of the best medicine delivery apps includes the capsule app for pharmacy delivery. Capsule makes it possible to deliver prescription drugs on the same day to consumers in New York. This company is regularly featured in Forbes as one of the fastest-growing firms in the industry. While searching for sinus infection medicine in 2016, the app's creator had an unpleasant experience.
Capsule is a pharmacy you never need to visit that delivers medication to your door on demand Eric Kinariwala and Sonia Patel co-founded it in 2016. It was launched with the goal of creating an Uber-like service for medicine delivery.
Capsule offers a number of features that can benefit customers, including:
Contact the pharmacy via phone, email, or live chat 24/7.
Quick access to doctors.
Also, the pharmacy collaborates with insurance companies and doctors' offices.
PillPack
A monthly package of your medications is sent to you by PillPack. To use it, you must go to the company's website, provide your medication list and your physician's contact information, and provide payment information.
On June 28, 2018, Amazon News published a press release. The article was mainly about how Amazon was introducing PillPack to the market.
A company called PillPack helps people manage their medicines according to a press release. Prescriptions are arranged, drugs are packed. And delivery is arranged by the company.
The pharmacy staff is available 24/7, 7 days a week, to answer any questions. Prescriptions can be refilled automatically. Price varies depending on the drug. There is no delivery fee.
Our support team is available 24/7
Medicine scheduling as per the prescription
Manages refills automatically
Walgreens
One of the most well-known drugstore chains in the U.S. is Walgreens. As a subsidiary of Walgreens Boots Alliance, Inc., the company offers products and services related to pharmacy and health and wellness. Just according to Walgreens' online pharmacy app, there are currently 11 million users.
Well, you don't have to switch to AllianceRX to get your prescriptions delivered to your door. Walgreens Express will take care of your prescriptions if you prefer. You can also even receive text messages from Walgreens Express letting you know when they will arrive. Generally, deliveries arrive the following day. But sometimes they are delayed by one or two days.
Deliveries are free to customers
for overnight delivery for $19.95
NetMeds
Netmeds make ordering drugs as easy as possible. Simply click on the product you need to order. NetMeds, a leading drugstore delivery app in India, also serves more than four million clients. Aside from offering low-cost, high-quality drugs. There has been evidence that the app reduces medical costs for its users.
Having access to a wide range of medications
24/7 operations
that are easy to pay for
1Mg
1mg's variety of products and services, as well as its competitive prices, have helped create a large and loyal customer base in India.
It is possible to search for drugs and find lower-cost pharmaceutical alternatives through this pharmacy app. Detailed information is also provided on treatment plans, side effects, dosage, safety warnings, safety advice, and frequently asked questions.
This app also allows you to make appointments and consult with doctors via the web platform. With 1mg, consumers can obtain lab results at their convenience from reputable medical labs.
Consultations conducted online
using the drug and medicine alternatives search feature
including questions and answers, diagnostic tests, and prescribed medications
PharmEasy
Consumers can access the most straightforward, inexpensive, and convenient way to obtain pharmaceuticals, even those that require a prescription.
By providing consumers with real-time order progress updates and the option to return a pill. The PharmEasy app improves interactions between pharmacies and consumers.
Easy 24-48-hour delivery
Excellent user interface & user experience
Many health products to choose from
That's it
Conclusions:
On-demand medicine delivery is undergoing massive change as companies offer consultations, medicine delivery, insurance, and other health-related facilities to make the lives of customers easier. The best pharmacy delivery apps give customers an array of options based on their location. The article highlights the advantages of each medicine delivery app for your convenience.
Request a demo from our business experts today.
Read More: How An Efficient Driver App Helps Grow Your Business?