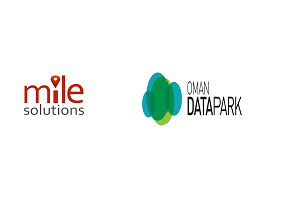 ODP & Mile Solutions Launch 'Imdad" Platform for the logistics sector  
'Imdad' – useful for real-time tracking of delivery of goods and  commodities  
Maqbool Al-Wahaibi: The unified logistic platform helps in providing delivery services which are growing in the Sultanate
Muscat: June 2020 
Oman Data Park (ODP), the premier cloud services and information technology managed services provider, in partnership with Mile Solutions launched 'Imdad' logistic platform to Optimize Lastmile Deliveries across Oman. Imdad stands to become a major contributor to the rapidly expanding logistics sector, with the massive economic and commercial growth in the Sultanate of Oman. 
Enterprises such as Restaurants, Couriers, Grocers, Retailers & eCommerce Companies in Oman will now be able to use the 'Imdad' logistic platform powered by Mile's Delivery Management Solution to optimize their entire delivery operations including in-house and external fleets. The Imdad platform will not only help improve customer engagement but also help businesses achieve cost effective and timely deliveries. imdad will help utilize and plan field operations effectively during peak hours and expand delivery coverage.   
Eng. Maqbool Al Wahaibi, Chief Executive Officer of ODP, said that the "ODP & Mile Solutions are proud to launch 'Imdad' logistic platform via the "Tawseel" initiative in the Oman Logistics Platform, designed to support SMEs offering logistics services locally. 
"As a unified platform managing all delivery and logistics operations, our 'Imdad' platform is launched considering the economic growth in this sector backed by a strong and flexible Delivery Management platform supporting effective logistics management. Our partnership with Mile Solutions brings forward the latest in logistics management software, which enable customers to leverage the power of technology and achieve excellence in logistics services" he added. "ODP & Mile teams are ready to take Oman's Lastmile Delivery segment to the next level with the right technology deployed locally for the Sultanate of Oman". 
"Customers today expect a personalized and real time delivery experience regardless of the demand peaks or the geographical constraints of a particular fleet" said Fawad Ahmed, Mile Solutions CTO & Co-Founder "Our partnership with ODP is a step towards ensuring that our joint customers in Oman enjoy flawless delivery experiences, while enabling user adoption at scale." 
About ODP 
Established in 2012, Oman Data Park (ODP) is the Sultanate's premier and the largest datacentre offering superior Managed Datacentre Services and Cloud Services utilising our locally hosted Tier 3 certified datacentres.  
The winner of Best Digital Data Centre in the Middle East at the Telecom World Middle East Awards 2019 as well as the Best Managed Security Services Provider (MSSP) Award 2019, We operate Oman's only Virtual Data Center – Nebula and are the first MSSP in Oman to offer Microsoft Azure Stack services. Our Cyber Security Centre and Professional Services as a Service (PSaaS) are all a part of our Opex based models offering economical pay-as-you-grow models that facilitate Infrastructure as a service (IaaS), Network as a Service (NaaS), DataCentre as a Service (DCaaS), Disaster Recovery as a Service (DRaaS), as well as Application as a Service (AaaS).   
About Mile 
Mile is a leading global lastmile delivery management solution provider, enabling enterprises with the most efficient way to manage in-house & outsourced complex delivery operations. Mile customers gain clear value across industries through platform's real-time operational capabilities critical to achieve logistical excellence across delivery ecosystems.  
Organizations with diversified needs across pharmacies, couriers, retailers, grocers, restaurants, eCommerce, logistics & many delivery service industries trust Mile's platform to streamline delivery operations. By adopting Mile platform businesses ensure reliable logistics across a wide range of delivery models, creating personalized delivery experiences for their customers. Mile customers enjoy cost-effective operations with a real time, unified view for all departments & stakeholders within the delivery ecosystem – from HO, through the field teams, all the way to end-customers. For enquiries email us [email protected].